Faculty-Led Study Tours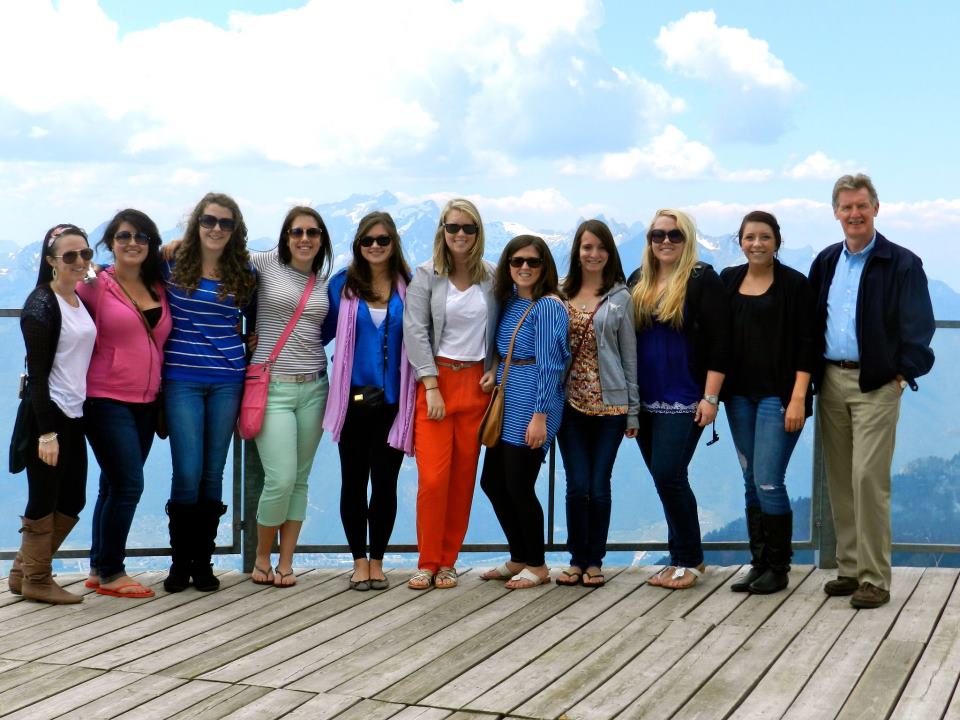 The Office of International Education offers several one-to-three week faculty-led study tours during the months of January, March, and May & June. In each program, a group of 15 students meets with the two faculty leaders during the semester and then travels together overseas.

Short-term study tours offer a great opportunity to gain exposure to another culture. For those students who prefer to travel with a group, or if academic requirements prevent semester long study abroad, they are an excellent option. Participants gain experience and self-confidence on these tours, and many choose to study or intern abroad for a full semester after they return.
How to Apply:
Students must submit an application via our online application. Please go to the "Programs" page, and select the study tour you wish to apply for and click "Apply Now." Please note that if a deadline has passed or if a tour is full, the "Apply Now" button will not appear.
Eligibility
2.5 GPA or Higher

Good Academic and Disciplinary Standing at the College

Must fulfill all application and pre-departure requirements
2019-2020 Academic Year Study Tours
HMS 387: Costa Rica Culture and Community Service Project
Location: Costa Rica
Dates: January 5-24, 2020
Class Status: Undergraduate
Semester: Fall 2019 (for registration)
Credits: 3
Price: $3,950
Application deadline: September 12, 2019

Course Description: A semester-long course that culminates in a community service project in Costa Rica. Important themes in intercultural communication, service learning, Costa Rican history and contemporary culture are explored. The in-country component consists of a cultural orientation and Spanish language courses in Santa Ana followed by a service project and an evaluation retreat.
SP 205: Spain: Art, History and Culture
Location: Madrid, Spain
Dates: January 6-24, 2020
Class Status: Undergraduate
Semester: Fall 2019 (for registration)
Credits: 3
Price: $3,950
Application deadline: October 11, 2019
Description: In this immersion experience, students study art, as well as the cultural history of Spain from its origins to the present by visiting art museums and cultural sites. Additionally, students are instructed in the Spanish language with emphasis on building communication skills. The course has 42 lecture hours in addition to four days of excursions. The course is structured with twelve sessions of three and a half hours each. Each of the sessions will have two hours of Spanish culture and civilization, and one and a half hours of Spanish language and grammar.


ST 388: Swiss Alpine Hospitality Tour

Location: Leysin, Switzerland & Evian, France
Dates: May 24 - June 7, 2020
Class Status: Undergraduate
Semester: Spring 2020 (for registration)
Credits: 3
Price: $4,200
Application deadline: February 4, 2020

Description: Students will explore various aspects of international hospitality foodservice, tourism, resort and hotel management. Emphasis will be placed on the trends toward internationalization in the hotel and restaurant industries, the nature of hospitality service in the global market, the relationship of travel and the impact of diverse cultural values, and norms in hospitality management. Students will be immersed in international learning environments. The course includes pre-trip planning and lectures, itinerary, trip journals, study and research, and post-trip project.
BUA 561: MBA/MSIT Study Tour: Global Business
Location: Cork & Dublin, Ireland
Dates: January 9-19, 2020
Class Status: Graduate
Credits: 3
Price: $2,995
Description
: Students are immersed in Irish and European business environments, Irish cutlure, European Union (EU), language and socio-cultural aspects. The program will include six to eight multi-national and Irish company visits with associated lectures by Cork Institute of Technology faculty and local government officials. Students will understand and experience the similarities and differences among Irish, European and U.S. markets and businesses, key success factors and challenges.
Additional trips for the 2019-2020 Academic Year include*:
Ecotourism & Marine Ecology Study Tour (Costa Rica)
Interior Design Study Tour (Madrid, Spain)
Cultural Introduction to Kenya (Kenya)
Choral Group Scandinavia Study Tour
Criminal Justice European Study Tour (Various Locations)
*All study tours are subject to change, based on location, date availability and enrollment.